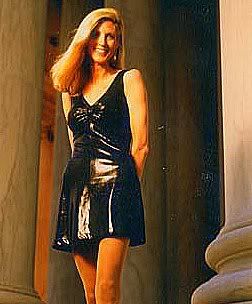 #1- Use of the word faggot by anyone who is educated enough to know its possible origins is utterly despicable and inexcusable. Although there is some debate, the word is thought to have come from the witchburning days, in which homosexuals were doused in fuel and used to start the fires to burn supposed witches at the stake. Such terminology is at par with lynching jokes, in my books. Also, resorting to such tactics shows desperation, in my books-- are the republicans doing so poorly that tasteless shock tactics are what you have to resort to?

#2- "I am emboldened by my looks to say things Republican men wouldn't."- From the very same woman who belittles other women near constantly, particularly those who use their looks, and says "I think [women] should be armed but should not [be allowed to] vote."
Oh, I see, only you get to get be taken seriously... and while wearing a leather dress!

#3- For someone so outspoken, she certainly doesn't seem to be able to get her facts straight. For instance, on an interview with a Canadian television program, she debated the host, claiming that Canada had sent troops to Vietnam. Huge webpages are dedicated to her slew of lies and mistatements in her books.

#4- A few more quotes, to drive my point home
"These broads are millionaires, lionized on TV and in articles about them, reveling in their status as celebrities and stalked by grief-arazzis. These self-obsessed women seemed genuinely unaware that 9/11 was an attack on our nation and acted as if the terrorist attacks happened only to them. ... I've never seen people enjoying their husbands' deaths so much ... the Democrat ratpack gals endorsed John Kerry for president ... cutting campaign commercials... how do we know their husbands weren't planning to divorce these harpies? Now that their shelf life is dwindling, they'd better hurry up and appear in Playboy." (about widows whose husbands died in 9/11)

"I think our motto should be, post-9-11: raghead talks tough, raghead faces consequences."

To a disabled Vietnam vet: "People like you caused us to lose that war."

***
Thanks to www.anncoulterisbrainless.com!